DQ World
Empower Children with the 8 Digital Citizenship Skills!
DQWorld.net
DQ World is a world leading online education platform to teach children ages 8-12 the 8 Digital Citizenship Skills. It empowers them to become informed and discerning digital citizens.
Internationally Recognised:

 By UNESCO, World Economic Forum, and OECD

Holistic:

 High-quality, research-backed, and comprehensive digital intelligence education

Easy-to-Use:

 Flip-learning pedagogy that is student-directed with minimal supervision

Play & Learn:

 Fun gamified learning for any child to self-learn DQ

Research-based Impact:

 Jointly developed with top institutions including Nanyang Technological University of Singapore, its educational efficacy has been tested and proven.
RESEARCHERS FROM:
Hour Programme
Increase in DQ Score
Reduction of Risky Online Behaviour
Improves
Critical Thinking, Empathy & Global Citizenship Skills
Tested and Proven by
600,000 Children
| | |
| --- | --- |
| | The programme is flexible and fits into any educational curriculum in the classroom including after-school programmes and/or short holiday workshops. |
Day 1

Introduction
Account Set-Up
What is the Digital World?
Screen Time Management 1
Day 2

Screen Time Management 2
Privacy Management
Cyber-bullying Management 1
Day 3

Cyber-bullying Management 2
Digital Citizen Identity
Day 4

Digital Footprint Management
Cyber Security Management
Day 5

Critical Thinking
Digital Empathy
Wrap Up Discussion
DQ
Reports
World-First Assessment of Digital
Citizenship Based on Research
After completion of each skill on DQ World, parents and schools can receive a DQ Skill Report. Upon completion of the entire programme, parents and schools can purchase the Premium DQ Individual and DQ School Reports respectively.
The DQ Reports provides a comprehensive summary of children's digital lives including digital competency, usage, exposure to cyber dangers, personal strengths, and their digital support environment as compared other schools and age groups in their nation. Students were assessed in the following areas: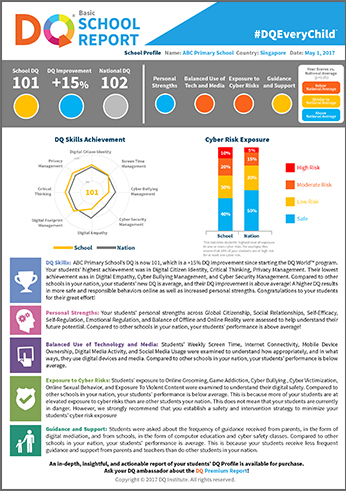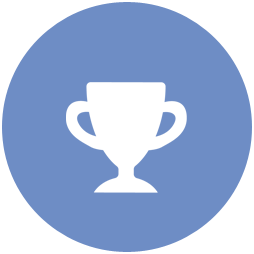 DQ Skills
Assessment of the child's mastery of the eight core digital citizenship competencies and improvement after completion of the DQ World online curriculum. National averages are included for comparison.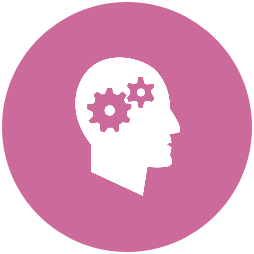 Personal Strengths
Assessment of the child's personal strengths across the areas of global citizenship, social relationships, self efficacy, self regulation, emotional regulation and balance of offline and online reality.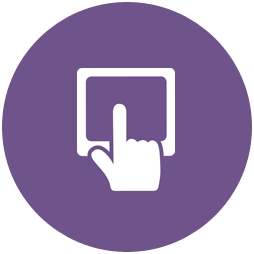 Balanced Use of Technology and Media
Provides useful information on the child's weekly screen time for entertainment, social media, etc.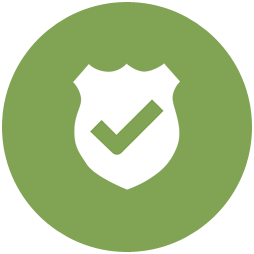 Exposure to Cyber Risks
Indicates the child's exposure to cyber risks including online strangers, game addiction, cyberbullying, cyber victimization, etc.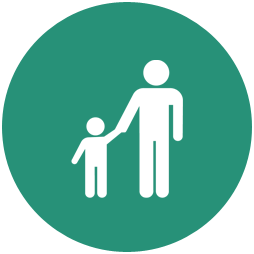 Guidance and Support
Indicates the degree of guidance and parental mediation the child feels he or she receives.
DQ Score Cards are available for schools and parents.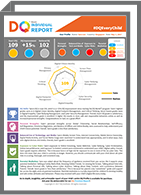 The DQ Score Card gives a snapshot of 1 of the 8 digital citizenship skills of your child and includes a skill score, comparisons to national and global averages, and other insightful information in relationship to your child's score.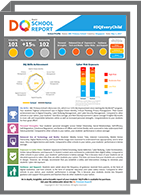 The DQ Score Card gives a snapshot of 1 of the 8 digital citizenship skills of your school's which includes a skill score, comparisons to national and global averages, and other insightful information in relationship to your entire school's score.
Premium reports offer in-depth actionable insights and analytics.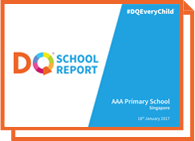 DQ Individual Premium Report
The premium DQ Individual Report provides a comprehensive report of the child's digital life with benchmarking. Some questions that the premium report anwers include:
What are my child's DQ strengths and weaknesses; and how can I encourage improvement?
How balanced is my child's use of media and technology; and how can I effectively mediate?
Which cyber risks is my child under high exposure to; and how can I intervene and protect?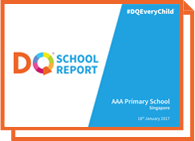 The premium DQ School Report provides aggregate DQ scores of school participants, compared with national results; as well as in-depth analysis and recommendations according to the five main areas. There will also be an actionable plan for intervention for high-risk students.
"Outstanding work in promoting digital citizenship!"
"An integrated multimedia play and learn experience."
"The pupils definitely learnt useful cyber wellness tips from this program."
World's first DQ to measure digital knowledge, skills and behaviors
Award-winning programme
Awarded twice by UNESCO in 2012 & 2013
Proven to be scientifically effective
National Institute of Education, Singapore
Tried & tested on over 600,000 students worldwide
Any child can freely, easily self-learn through fun play & learn online experiences
Backed by robust research and constantly updated
Easily scalable! Can be implemented in any country
A holistic approach, nurturing identity & values