Recognizing how technological issues such as cyber-bullying, privacy invasion, and gaming addictions affect children, Dr. Yuhyun Park, started a not-for-profit initiative called infollutionZERO (information pollution ZERO) in South Korea in 2009. It began as an educational initiative that empowered children with digital citizenship skills to minimize risks and maximize potential in the digital world.
Dr. Park moved to Nanyang Technological University (NTU) in Singapore and the infollutionZERO initiative evolved into a research-based digital citizenship education outreach program for Singaporean primary schools, in collaboration with Associate Professor Angeline Khoo and other researchers at the National Institute of Education (NIE).

Seeing the need for a comprehensive approach to digital education, in 2015, Dr. Park's team pioneered the concept and framework of Digital Intelligence (DQ) – a comprehensive set of digital competencies that individuals need to thrive in the digital economy beyond IQ and EQ.

The team developed DQWorld.net, a research-based online digital citizenship education/assessment platform for 8-12 year-old children with the support from Singtel and the Inter- Medium-level Skillinistry Cyber Wellness Steering Committee (ICSC). The DQ World children education programs have been used by more than 1 million children across 85 countries, and includes one of the world's largest database and analytic systems for assessing children's online behaviors and digital citizenship skill capabilities.
In 2017, the DQ initiative was featured at the Annual Meeting of the World Economic Forum in Davos. The team's efforts to tackle the cyber-risk pandemic facing children found strong support from global leaders. In turn, a growing list of international engagements motivated the creation of the DQ Institute (DQI) – an international think-tank that was born in association with the World Economic Forum, and later registered as a 501(c)(3) charity organization in the US. Right away, the DQI started #DQEveryChild – a global education movement with the vision of empowering children in >100 countries with DQ digital citizenship using the DQWorld.net platform by 2020. The DQ Coalition was formed and currently includes Singtel, Turkcell, and Twitter among over 100 partners from around the world.
We also initiated the Coalition for Digital Intelligence together with the OECD, IEEE, People Centred Internet, and many others to set DQ as a global standard for digital literacy and skills. On this journey to educate children through #DQEveryChild, it has become apparent that there is an ongoing need for digital skill assessment tools, certification programs, and risk monitoring for adults, especially company employees. With the fast-changing digital economy and AI and other technological advances, it is also critical to train workers with industry-specific digital skills for company growth and economic competitiveness. In collaboration with Singapore SkillsFuture, we developed a set of assessment tools and an analytic system to measure the digital citizenship of the general public and workforce.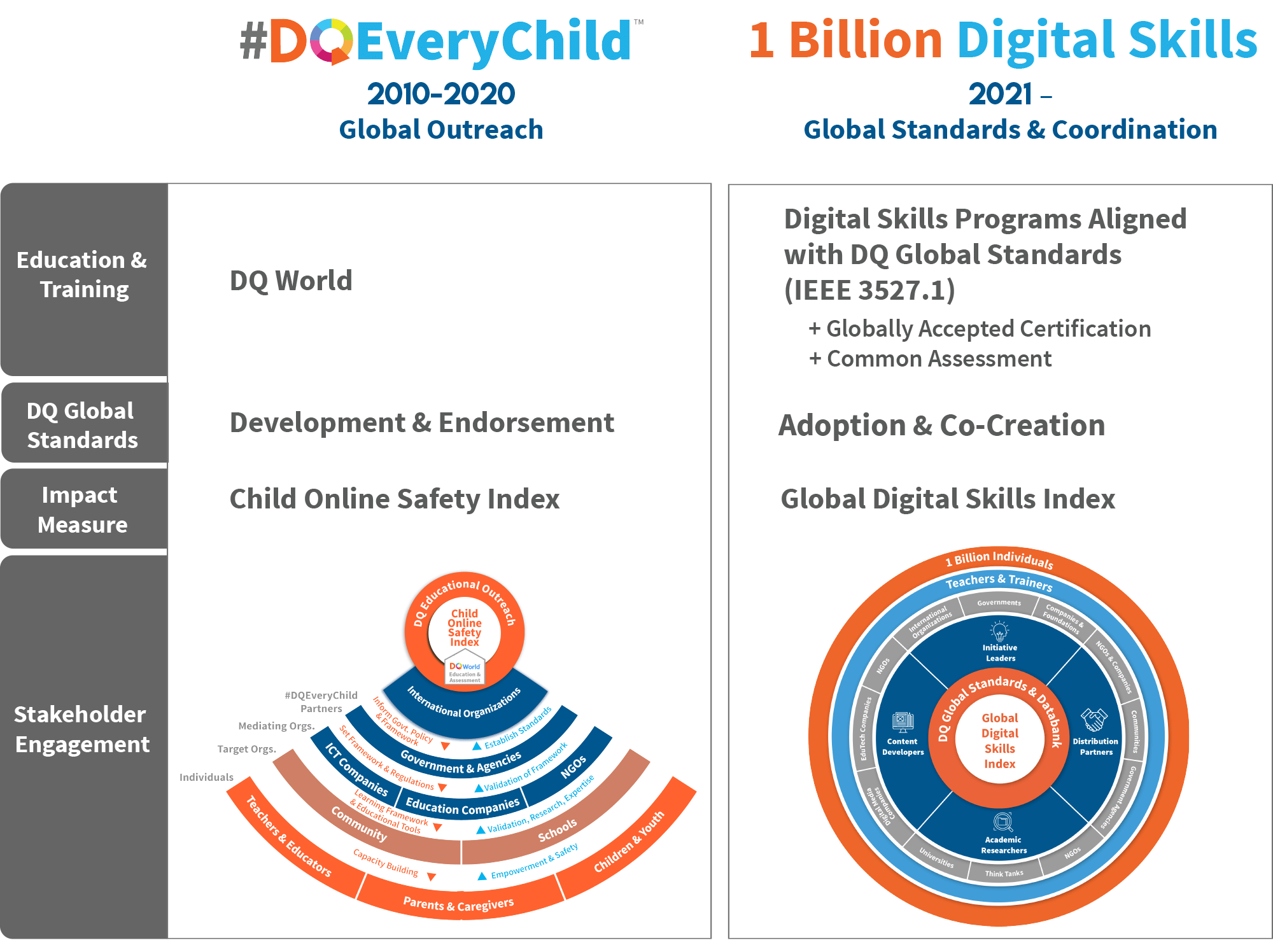 2020 was a big year for DQI and we made tremendous progress in three key areas:
building a global DQ standards framework that all nations and sectors can adopt (DQ Global Standards),
implementing a global children's education program that any child can learn from (#DQEveryChild), and
establishing a global measure for child online safety that all nations can take heed of (Child Online Safety Index).
In February 2020, DQ finalized the Phase 1 of #DQEveryChild in collaboration with the World Economic Forum and published the Child Online Safety Index (COSI), the world's first real-time measure to help nations better understand their children's online safety status. Finally on 24th September 2020, Digital Intelligence (DQ) was officially approved by the IEEE Standards Association as the world's first global standard related to digital literacy, digital skills, and digital readiness (IEEE 3527.1™ Standard)7.

Based on these experiences, the DQ Seal – Global Digital Skills Coordination Project will coordinate, empower, and measure digital skills initiatives worldwide with the vision of "Digital Empowerment For All" to bridge the global digital skills gap through DQ Global Standards.