DQ Institute launches the Digital-ESG on SID 2023, which provides the tools for organizations to manage digital-related risks and opportunities
Cross Economy, the model for the Digital-ESG, was introduced in the energy sector, demonstrating the transformation of carbon waste to high-value product in achieving net-zero
Singapore, 7 February 2023 – DQ Institute launches the Digital-ESG framework today, the Safer Internet Day (SID) 2023.  Complementing and expanding on the current ESG (Environmental, Social, Governance) framework, Digital-ESG addresses the growing concern over digital-related risks from negative impact of technology on society and the environment, as well as digital-related opportunities from positive impact of digital transformation to enhance sustainability.
The new framework aims to provide companies with the comprehensive tools and guidance they need to navigate the evolving digital landscape with responsibility, transparency, and accountability.                
Digital-ESG was developed in collaboration with Singapore's Nanyang Technological University (NTU) and South Korea's Future Consensus Institute, and through discussion with multi-stakeholders at the World Economic Forum (WEF) Davos 2023.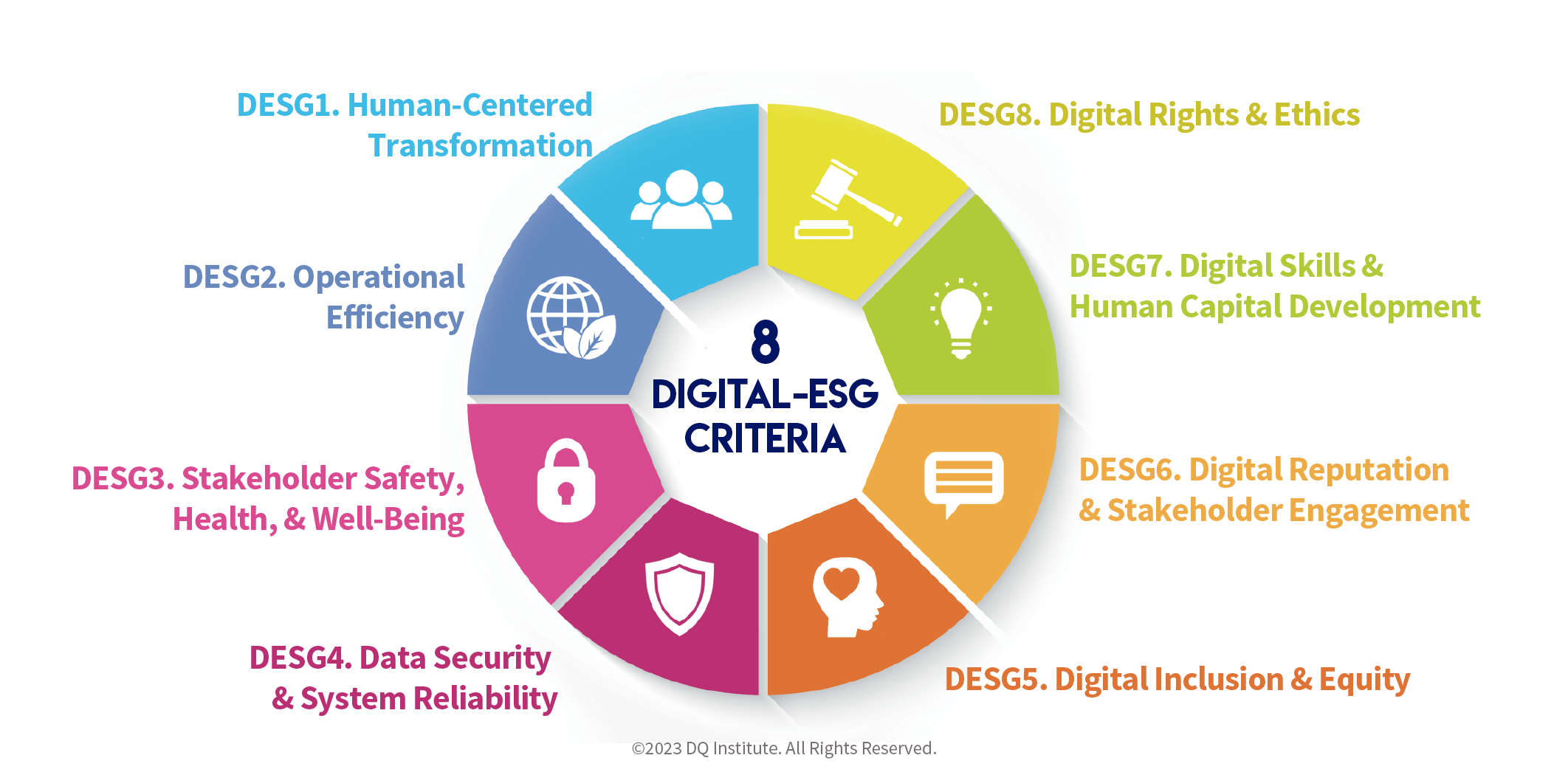 The global digital economy, estimated at US$30 trillion, accounted for 30% of the global economy in 2022.  The advent of the Metaverse, advancement and implementation of artificial intelligence (AI), big data, analytics and other emerging technologies, has brought rapid digitalization of traditional brick-and-mortar companies.  This ongoing digital transformation continues to change the reality of the world, but inevitably brings various digital-related risks such as phishing, online sexual abuse of children, failure of crypto, customer data leaks, and more.  While United Nation's (UN) Sustainable Development Goals (SDGs) and existing ESG frameworks include climate-related issues on climate change, pollution and wastes, digital-related issues are not adequately covered.
Digital-ESG also highlights the positive impact of technology in enhancing sustainability as well as profitability by transforming waste into high-value materials through material innovation, sustainable processing, and digital technology.  In an industry collaboration spearheaded by DQ Institute, the Cross Carbon Economy (CCE) model, reconceived from the Circular Carbon Economy model, was proposed as a case study of the Digital-ESG for the energy sector.  The Cross Carbon Economy model emphasizes creating value from carbon waste in a manner that is more equitable to the world.  This Cross Economy model can be applied across other industry sectors to provide practical insights and valuable tools to shape the future economy, production and consumption cycle in achieving net-zero.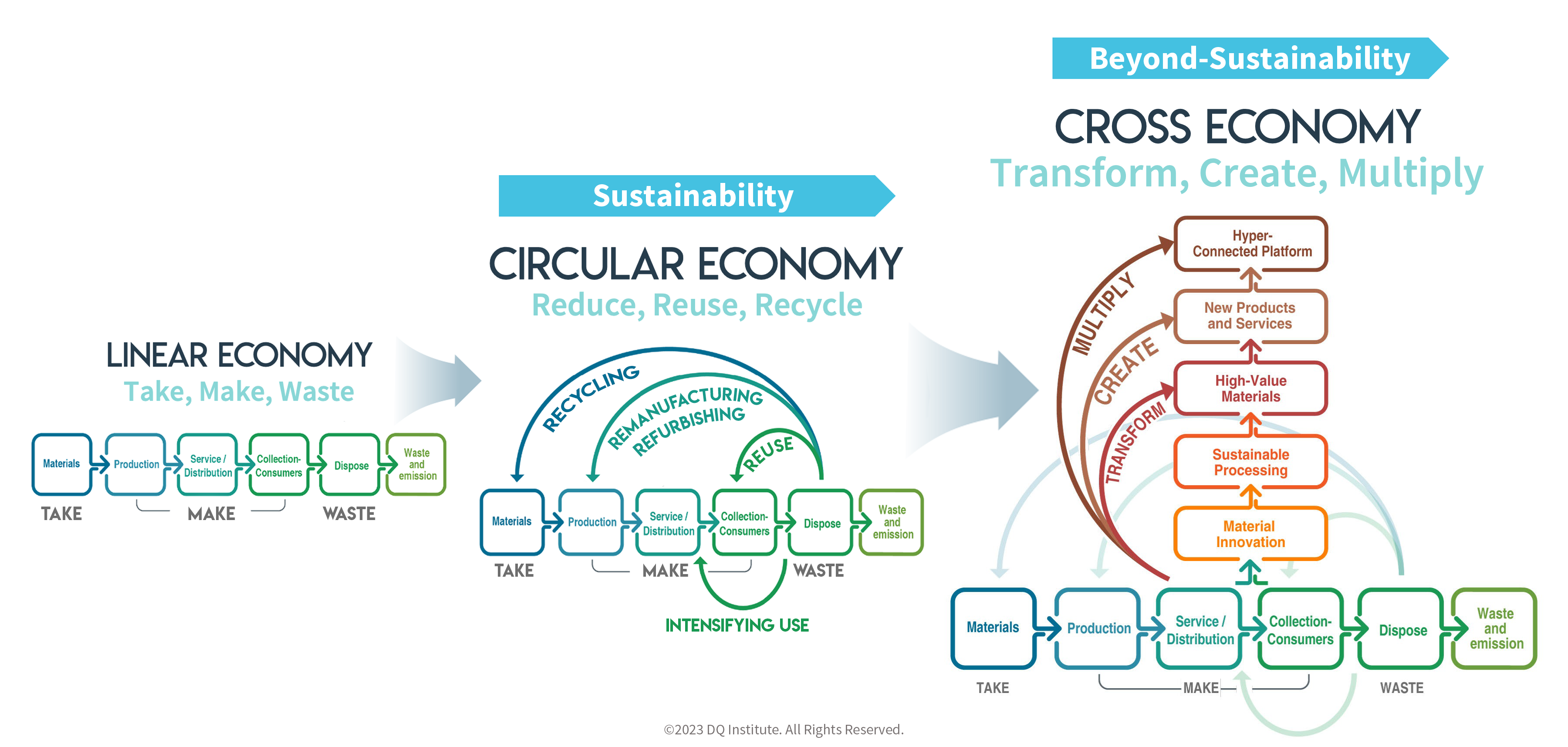 Co-Chair TDFD and founder of DQ Institute, Dr. Yuhyun Park, explained, "Digital-ESG was developed in response to the increasing demand for transparency and accountability of companies' digital-related activities.  The framework, applicable across all industry sectors and organization types, provides an additional layer to the existing ESG framework to measure the impact of a company's digital-related activities which are not currently addressed.  The Cross Economy model within the framework also presents opportunities for organisations to seek new areas of growth."
As the first step to implement Digital-ESG, a Taskforce on Digital-related Financial Disclosures (TDFD) was launched with the task to develop international standards that provide investors and other capital market participants with the guidelines on companies' digital-related risks and opportunities and help them make informed decisions related to their digital economy activities. These new guidelines will fill the gap by providing guidance on relevant Digital-ESG matters that should be disclosed and help shape the standardization of digital sustainability reporting.
Co-Chair TDFD, Professor Lutfey Siddiqi, a Visiting Professor in Practice at LSE IDEAS, added, "ESG considerations are rightly gaining traction as determinants of global investment and finance.  As our business world becomes more digitalized, it is only natural that ESG reporting includes material impact of digital initiatives.  At TDFD, we aim to develop a set of disclosure standards for activities in the digital space, in familiar formats for organizations, investors and industry practitioners to adopt with ease."
Looking forward, TDFD will be working closely with relevant parties with the goal to include Digital-ESG disclosures in major internationally-accepted ESG reporting frameworks and sustainability reporting standards. TDFD welcomes industry leaders to contribute to this ground-breaking effort that helps organizations track, manage and disclose Digital-ESG performance.
For more information on Digital-ESG and to download the framework, visit https://tdfd-global.org/.
About DQ Institute
The DQ Institute (DQI) is an international think-tank that is dedicated to setting global standards for digital intelligence and to ensuring the safety, empowerment, and well-being of individuals, organizations, and nations in the digital age. Its DQ framework has been recognized as the global standard for digital literacy, skills, and readiness (IEEE 3527.1-2020). DQI operates as a 501(c)(3) organization in the United States and as a not-for-profit organization in Singapore.
For more information, please visit https://www.dqinstitute.org/.
Contact
Media & Partnerships