"The DQ Global Standards Report 2019" released at the Global Education and Skills Forum in Dubai establishes for the first time a set of global standards for digital literacy, skills and readiness, known as the DQ framework.
Dubai, March 22, 2019: The Coalition for Digital Intelligence (CDI), a platform created in association with the World Economic Forum (Forum) and formed jointly by the Organization for Economic Co-operation and Development (OECD), IEEE Standards Association (IEEE), and DQ Institute, has today launched the DQ Global Standards Report 2019 which is the world's first attempt to define a global standard for digital literacy, skills and readiness across the education and technology sectors. The OECD, the Forum, the World Bank, and the United Nations have all identified these digital competencies as fundamental for future readiness.
The report is launched at the seventh annual Global Education and Skills Forum (GESF) 2019, a Varkey Foundation initiative, where leading personalities from the public, private, social, entertainment and sports sectors and almost 2000 delegates discuss new ways for education to transform our world, and how new influencers are to bring about seismic change.
The new DQ global standard is the culmination of the successful collaboration across global public, private, and civic education and technology communities that began with the launch of the CDI at the Sustainable Impact Summit, the World Economic Forum in September 2018, and aims to establish a global, common language and set of norms around the digital competencies that will be increasingly required in an era of rapid technological progress.
DQ Institute Founder, Dr Yuhyun Park explains: "Companies, governments and organizations invest millions each year in developing digital literacy and skills, yet there is a severe lack of coordination or a globally shared understanding of what terms like digital skills and digital literacy mean, and it is difficult to address how to improve and sustain them. For the world to build comprehensive digital competency more efficiently and effectively, there is an urgent need for coordination and consensus on a common set of understanding, structure and taxonomy — a global standard for digital literacy, skills, and readiness. That's what this report sets out to achieve."
The CDI aims to establish a global framework for Digital Intelligence, DQ, which includes a common set of definitions, language, and understanding of comprehensive digital literacy, skills, and readiness that can be adopted by stakeholders worldwide, including national governments, educators, technology companies, and service providers.
"We have been talking about digital literacy in the U.S. since the 1980s. Unfortunately, we haven't made much progress, partly because we don't have a common framework. When we say digital literacy a lot of people just think of computer skills. Others may think about media violence or even computer programming. All are a part of digital literacy, but there hasn't been a framework to integrate all these pieces. With proper digital literacy education, we reduce the risks children face and give them the skills they'll need to be successful in a new economy.", said Douglas Gentile, Professor of Psychology at Iowa State University.
The DQ Framework
DQ is a comprehensive set of technical, cognitive, metacognitive, and socio-emotional competencies that enable individuals to face the challenges and harness the opportunities of digital life. It is made up of three levels, eight areas, and 24 competencies composed of knowledge, skills, and attitudes and values.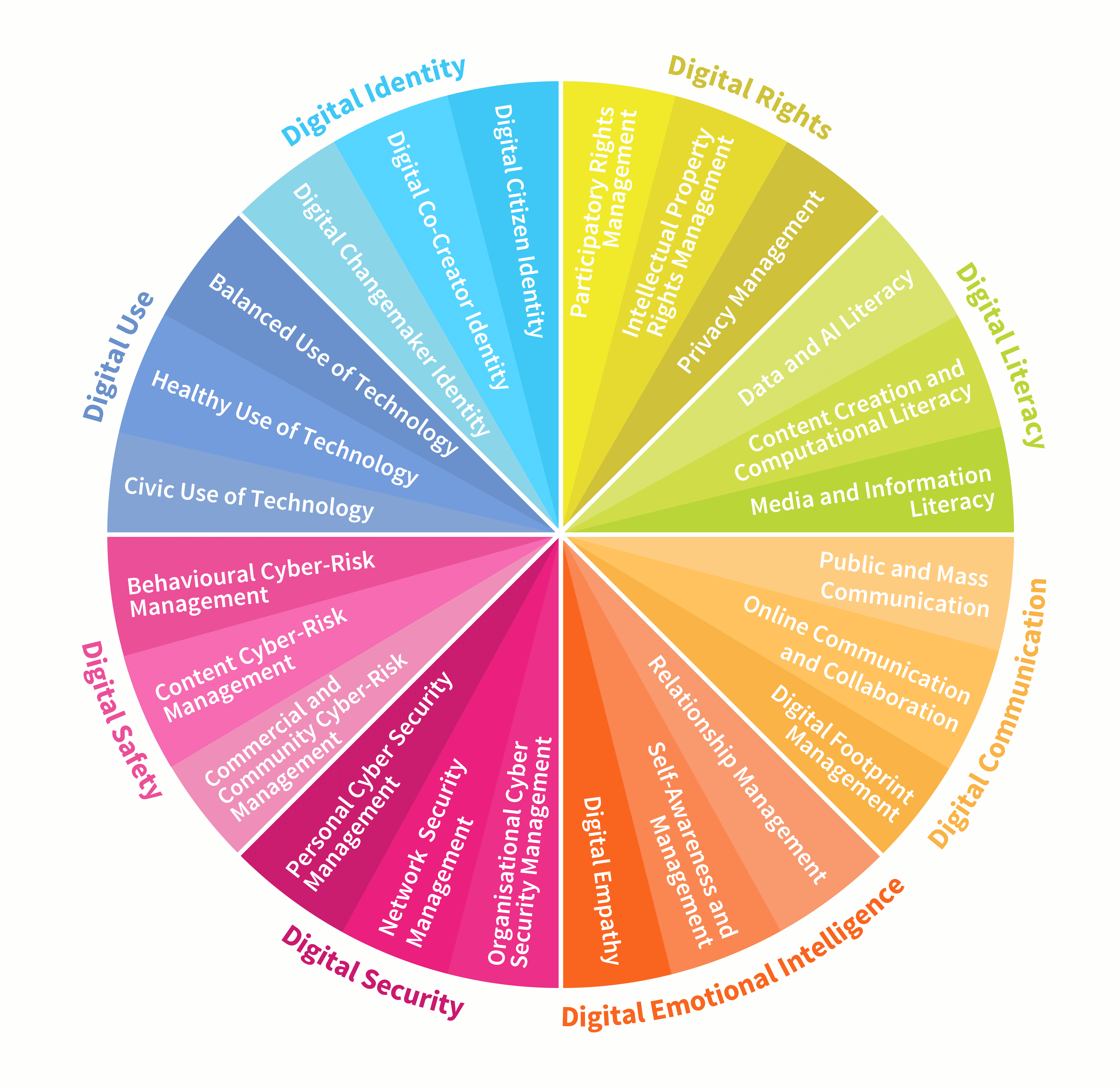 The DQ Standards are unique as overarching concepts that encompasses the competencies of digital literacy, skills, and readiness, with a systematic structure built on the OECD's Education 2030 Learning Framework and by aggregating 25 leading global approaches including UNESCO's Digital Citizenship Competency Framework, European Commission's Digital Competence Framework, US Common Sense's Digital Literacy Framework and Singapore's Skills Frameworks. DQ has a common language and taxonomy, with an adaptable framework that enables national and organizational adoption, customization and agile evolution to ensure that the framework remains pedagogically and technically up-to-date.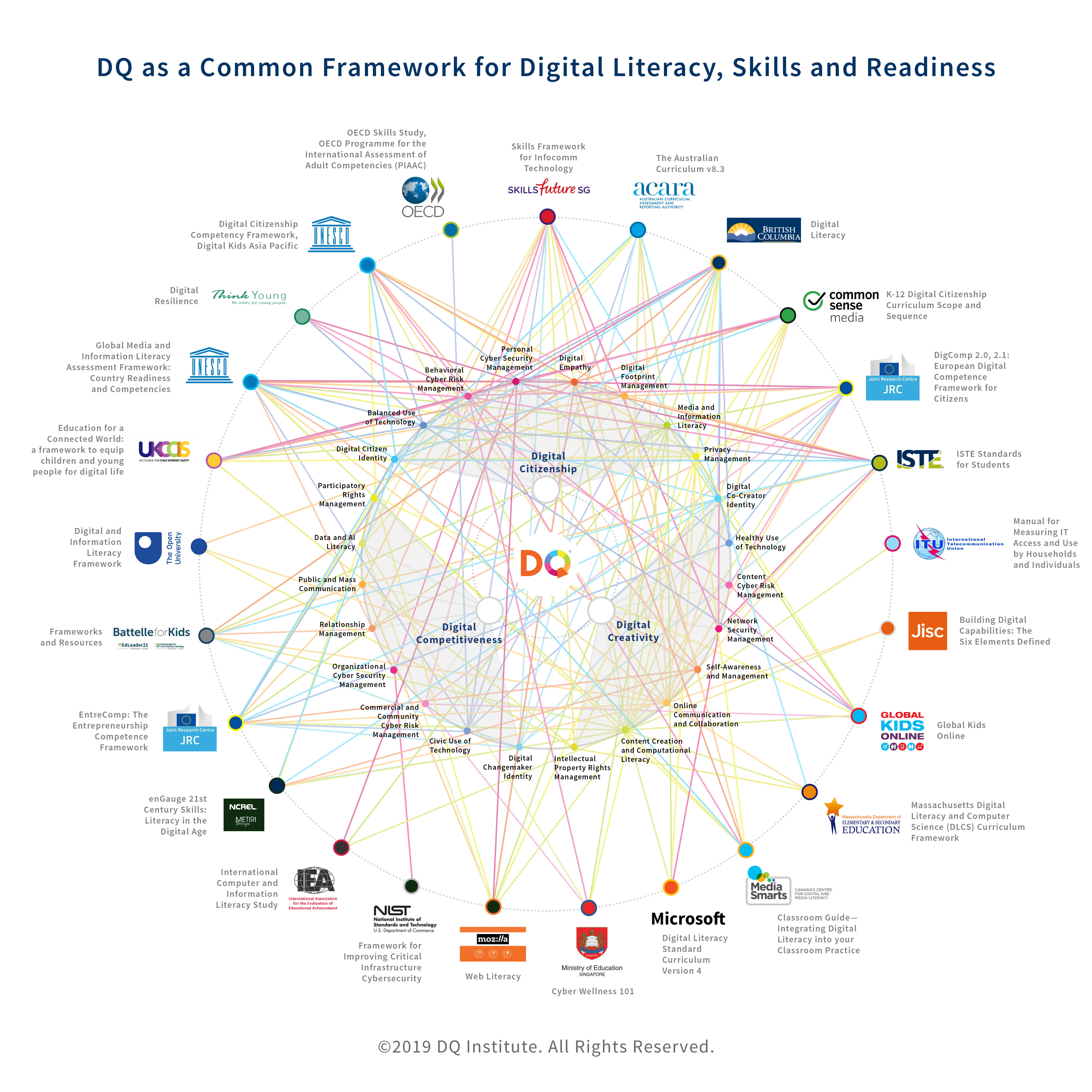 Vikas Pota, Chairman of the Board, Varkey Foundation, which runs GESF, said: "With the theme of this year's GESF being "Who is changing the world?", the launch of this report could not be better timed. The DQ global standards allow organizations and individuals to fully harness digital technology, but also maximize personal strengths such as empathy and global citizenship. By giving the critical digital skills issues of the future a key reference point, the DQ global standards represent a significant step forward, and I look forward to witnessing their wider adoption across the world."
The DQ Institute alongside the CDI calls on all interested parties – NGOs, private companies, schools and educators – to be co-creators in establishing the global standards. A number of organizations across the world have already either helped co-create the new DQ global standard or have adopted it as the platform upon which they are developing their digital skills strategies.
Peter Estlin, The Lord Mayor of the City of London, said: "The DQ framework and the push for its use as a global standard for digital skills is precisely the type of forward-thinking initiative that's needed to ensure we successfully navigate the challenges and opportunities of the fourth industrial revolution. It will help coordinate various digital skills initiatives in the UK to improve and scale up their efforts, and we're already using it for our digital skills strategy."
Andrew Buay, Vice President of Group Sustainability at Singtel, said: "Singtel believes firmly in the education and promotion of responsible digital citizenship. We are honoured to have been involved in the development and implementation of the DQ framework right from the beginning. A global standard for digital literacy and skills is timely and also critical to establishing common ground among multiple stakeholders to further enhance competencies and cross-sector collaboration. It is also important in developing education programmes for people, especially children, so that they have the social, emotional and cognitive abilities to thrive amid the challenges of our digital world."
Melissa Sassi, Chair IEEE Smart Village Digital Literacy & Skills Working Group, said: "The DQ Institute's model as an example of a framework that could empower the world to transition from consumers of technology into creators, makers, and doers empowered by technology. The next task in front of us includes translating the framework into real-world modules and tools to enable all humans – regardless of socioeconomic background, geography and/or gender – to compete in the 21st century economy"
Ng Cher Pong, Chief Executive of SkillsFuture Singapore, said "As a co-creator of the new framework, we believe in its potential to be a comprehensive and holistic way to assess the digital skills and mindsets needed and align workforce skills with global standards. This will enable workforces facing the technological upheavals of the future to be fully prepared to adapt and flourish."
Kim Jin-Yong, the Commissioner of Incheon Free Economic Zone Authority (IFEZ), Korea, said: "While governments are spending billions of dollars to build digital technology and infrastructure for "smart" cities every year, there has been a serious lack of investment in education and training of digital literacy to make citizens "smart". With the rapid rise of new cyber-crimes, cyber-bullying, and online privacy issues, IFEZ is committed to empowering our citizens with digital intelligence and helping implement the global standards of DQ."
Alejandra Lagunes, Senator / Former Coordinator of the National Digital Strategy for Mexico Presidency, said: "Since 2017, Mexico has used the DQ Framework in schools, and as a key reference for the design and implementation of the Digital Inclusion Public Policy. The Global Standard allows us to identify the main components to develop digital citizens' skills to participate safely and effectively in online communities."
For more information and how to be involved please contact:
1. DQ Institute [Main Contact 1]
Kelly Burke
Flux Communications
+27 82 498 2797
kelly@fluxcom.co.za
2. Varkey Foundation [Main Contact 2]
Sasha Johnson
Apollo Strategic Communications
sasha.johnson@apollostrategiccomms.com
0044 7545 068 323
3. City Of London
Joe Dibben
International Media Officer
City of London Corporation
Guildhall
Direct dial: 020 7332 1906
Mobile: 07710 860886
Joe.Dibben@cityoflondon.gov.uk
4. Iowa State University
Angie Hunt, Iowa State University News Service
amhunt@iastate.edu
515-294-8986
5. Singtel
Marian Boon Li-an
Group Strategic Communications and Brand
Singtel
marian@singtel.com
+65 8876 1753
6. SkillsFuture Singapore
Yvonne Pang
Corporate & Marketing Communications
SkillsFuture Singapore
yvonne_pang@ssg.gov.sg
+65 6512 1340
ENDS
Note to the Editor:
The 2019 DQ Global Standards Report:
Images:
The Coalition for Digital Intelligence
The Coalition for Digital Intelligence (CDI) is a cooperative network of organizations from around the world that aims to improve global digital intelligence by coordinating efforts across the educational and technology communities through multi-stakeholder collaborations. The IEEE Standards Association, the DQ Institute, and the Organisation for Economic Cooperation and Development (OECD) work together with the World Economic Forum with the aims of setting a global framework for digital intelligence which includes a common set of definitions, language, and understanding of comprehensive digital literacy and skills that can be adopted by nations worldwide.
For more information please visit https://www.coalitionfordigitalintelligence.org/
The DQ Institute
DQ Institute (DQI) is an international think-tank that is dedicated to setting global standards for digital intelligence education, outreach, and policies. Working together with international agencies and local partners, DQI builds multi-stakeholder coalitions that advance its mission and help people worldwide. DQI's award-winning educational programs include the #DQEveryChild initiative, which seeks to empower 1 billion children with digital intelligence education.
For more information please visit https://www.dqinstitute.org/
The Varkey Foundation
The Varkey Foundation believes every child deserves a vibrant, stimulating learning environment that awakens and supports their full potential. The foundation believes nothing is more important to achieving this than the passion and quality of teachers. They support global teaching capacity and seed excellence and innovation in the next generation of educators. They also founded the Global Teacher Prize to shine a spotlight on the incredible work teachers do all over the world.
For further details please visit: https://www.varkeyfoundation.org
For further information about the Global Education & Skills Forum visit: https://educationandskillsforum.org