DQ Assessment and Analytics Tool (DQ Assessment) assists individuals in becoming safe, effective, and competent by monitoring progress and providing feedback. DQ Assessment can be used in homes, classrooms, or the workplace to help everyone build digital skills.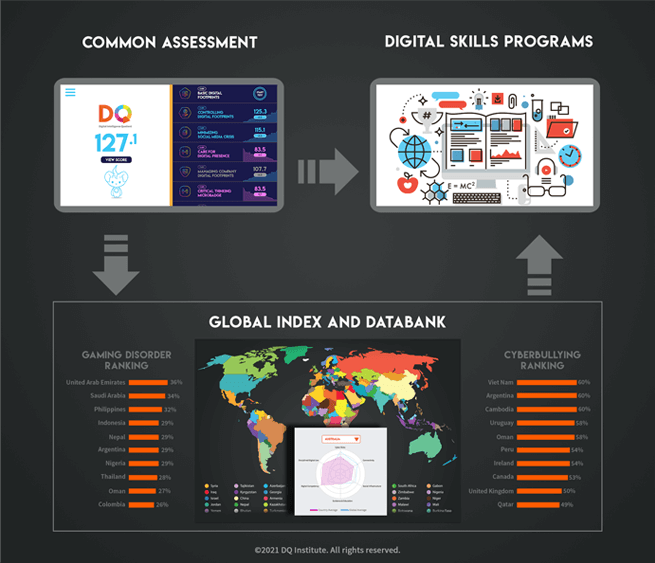 DQ Assessment was developed in collaboration with Singapore SkillsFuture to serve as a common measurement and analytic tool for digital skills based on the DQ Global Standards and global benchmark.
All the data collected from the DQ Assessment is included in the Global DQ Databank that produces the DQ Index, and in the impact measure of specific digital skills initiatives, as well as an aggregated index that measures the level of digital intelligence (DQ) competencies of nations.
The goal of the DQ Index is to monitor the global progress in building digital skills inclusively worldwide with the aim of empowering every individual and organization in each nation to be digitally ready – safe, ethical, and competent.
The DQ Index tangibly helps multi-stakeholder leaders visualize and implement how they ensure individuals' and organizational capacity building of digital skills in their sphere of influence through its practical DQ assessment tools.
We believe digital skills are no longer optional, but are necessary. Nations' basic digital readiness starts with fundamental digital citizenship education and online safety for children. The 2020 Child Online Safety Index (COSI) assesses the levels of digital citizenship, exposure to cyber-risks among children age 8-18 year olds, and the protective supports that they can rely upon.
DQ Assessment &
Analytics Tools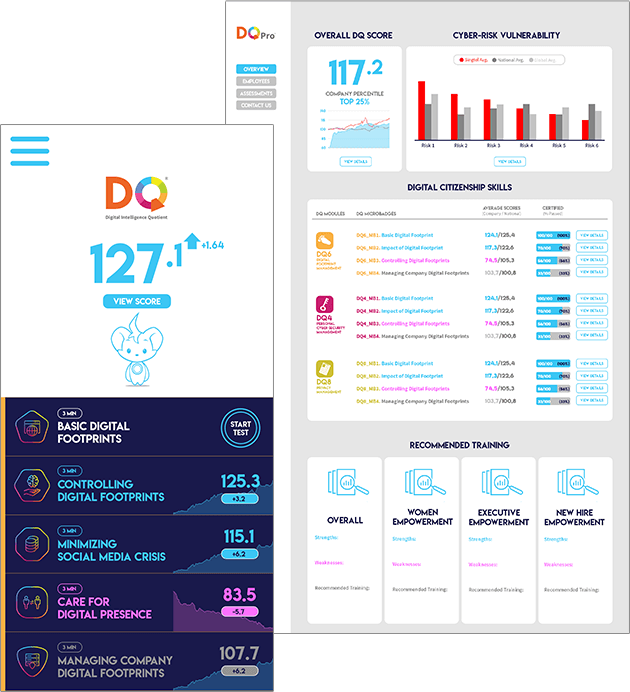 DQ Assessment was developed as a web/mobile-based platform providing assessment & analytics tools to support digital skills education/training programs to measure digital skills for individuals and organizations based on global benchmarks. It will enable:
1) Common assessments that measure the levels of multiple competencies of digital intelligence of individuals and organizations against global standards with global benchmarks
2) In-depth analysis to the end users (e.g., individuals and organizations) to identify their strengths and weaknesses through global benchmark
3) Customized digital skill development for individuals and organizations to help design customized lifelong training
DQ common assessment tools are developed based on collection of the various assessment instruments from various credible sources and existing research projects of content owner partners.
DQ Score
DQ Score is a composite number derived from the competence levels measured according to the eight core digital citizenship competencies. Similar to an IQ score, the global average is 100, with the standard deviation of 15.
DQ Score correlates significantly with the level of cyber-risks (inverse) and personal strengths (direct).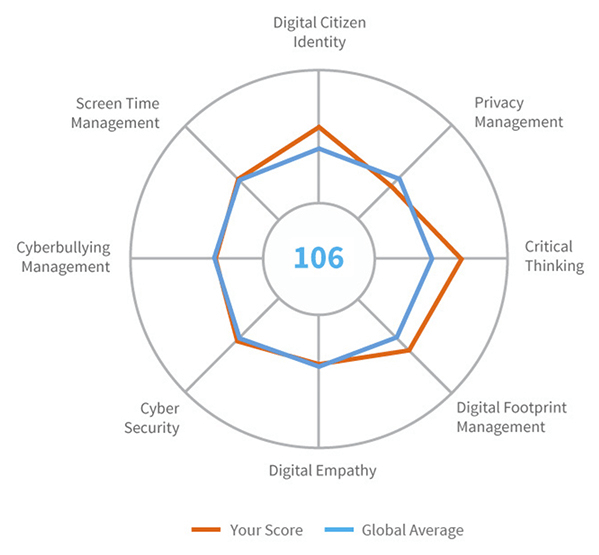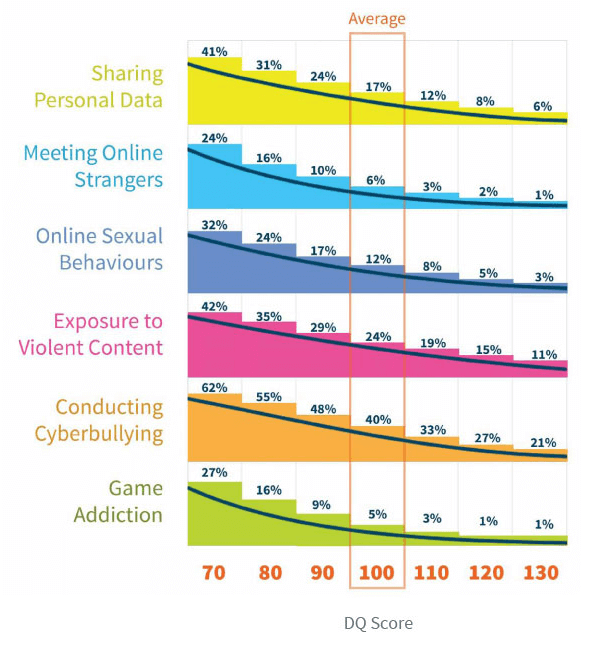 Relationship Between Online Risky Behaviours and DQ Score
For example, on average a DQ Score of 90 for sharing personal data translates to a 24 percent risk of a child sharing personal data.
However, increasing their DQ score to 100 reduces that risk to 17 percent, and raising their score to 110 further reduces it to 12 percent.
Relationship Between Personal Strengths and DQ Score
DQ Score correlates directly with psychological strengths, cognitive and social development as well as safe and responsible online behaviours.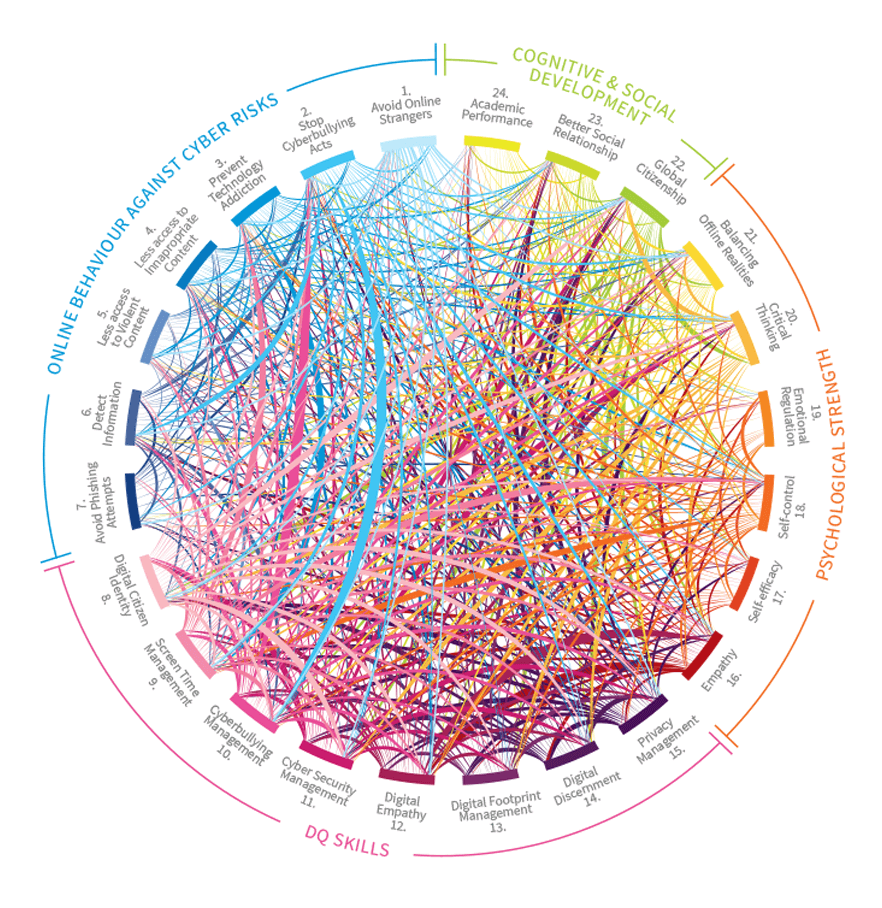 International Collaborative Project
Global Measure for Child Online Safety and Digital Citizenship
Children are facing a strange new world in response to COVID-19, with schools moving online or closing, fewer services available, and a tremendous increase in unregulated screen time and online access. Children were already suffering from too little support, as evidenced by 60% of 8- to 12-year-olds across 30 countries reporting at least one cyber-risk in the past year. The risks are varied, including cyber-bullying and victimization, risky meetings, gaming addiction, privacy problems, obscene contents, and fake news. These risks can lead to serious outcomes, such as poorer social adjustment, poor school performance, and poor health. There is an urgent need for global solutions and coordination to ensure child online protection and empowerment.
Currently, there are several international- and national-level initiatives with similar visions of child online protection and empowerment in the digital age. This Project's vision is to create faster, more efficient, coordinated, and comprehensive digital skills empowerment by connecting these ongoing initiatives and leveraging the strengths of each effort. This will result in increased digital safety and security at a global level.
The Project aims to develop a common measurement and global databank to monitor global, national, and local progress on child online safety and digital citizenship. The measurement being developed in this Project can be integrated together with other indices that measure digital economy performance, such as the G20 Measurement for Digital Economy, and digital sustainability, such as the UN Sustainable Development Goals.
Please Check Out
We welcome all partners who are interested in contributing to these global efforts to make the digital world safer, more secure, and empowering for our children. The Project is designed to be open and collaborative. If you are interested in participating in this Project, please 
contact us
.