CHECK YOUR
COUNTRY'S
COSI LEVEL
Scroll to the rightScroll down to view the Child Online Safety Index (COSI) levels of 100 countries.
For a more detailed level breakdown of each country, please go down to Country Level Report below.
What is the Child Online Safety Index (COSI)?
The Child Online Safety Index (COSI) is a national-level metric designed to assist countries in effectively monitoring the status of their children's online safety.
Through the use of COSI, countries can identify areas requiring improvement in addressing online safety issues across the six key stakeholders: Children, Families, Schools, ICT Companies, Government Policies, and Technology Infrastructures, using global benchmarking. This approach allows for more efficient resource allocation and the enhanced implementation of relevant initiatives. As a result, stakeholders can coordinate their efforts effectively, leading to improved child online safety, all while having the ability to measure national progress quantitatively.
Moreover, by integrating the COSI with DQ assessment tools and its global database, the index will receive automatic updates as countries make progress in their initiatives to enhance child online safety.
The COSI score is a composite rating that combines the scores of six key stakeholders, evaluating their efforts to enhance child online safety within the country: 1) Children's Safe Use of Technology (Children), 2) Family Support (Families), 3) School Digital Citizenship Education (Schools), 4) ICT Company Responsibility (ICT Companies), 5) Government Policies and Regulation (Government Policies), and 6) Technology Infrastructure (Technology Infrastructure).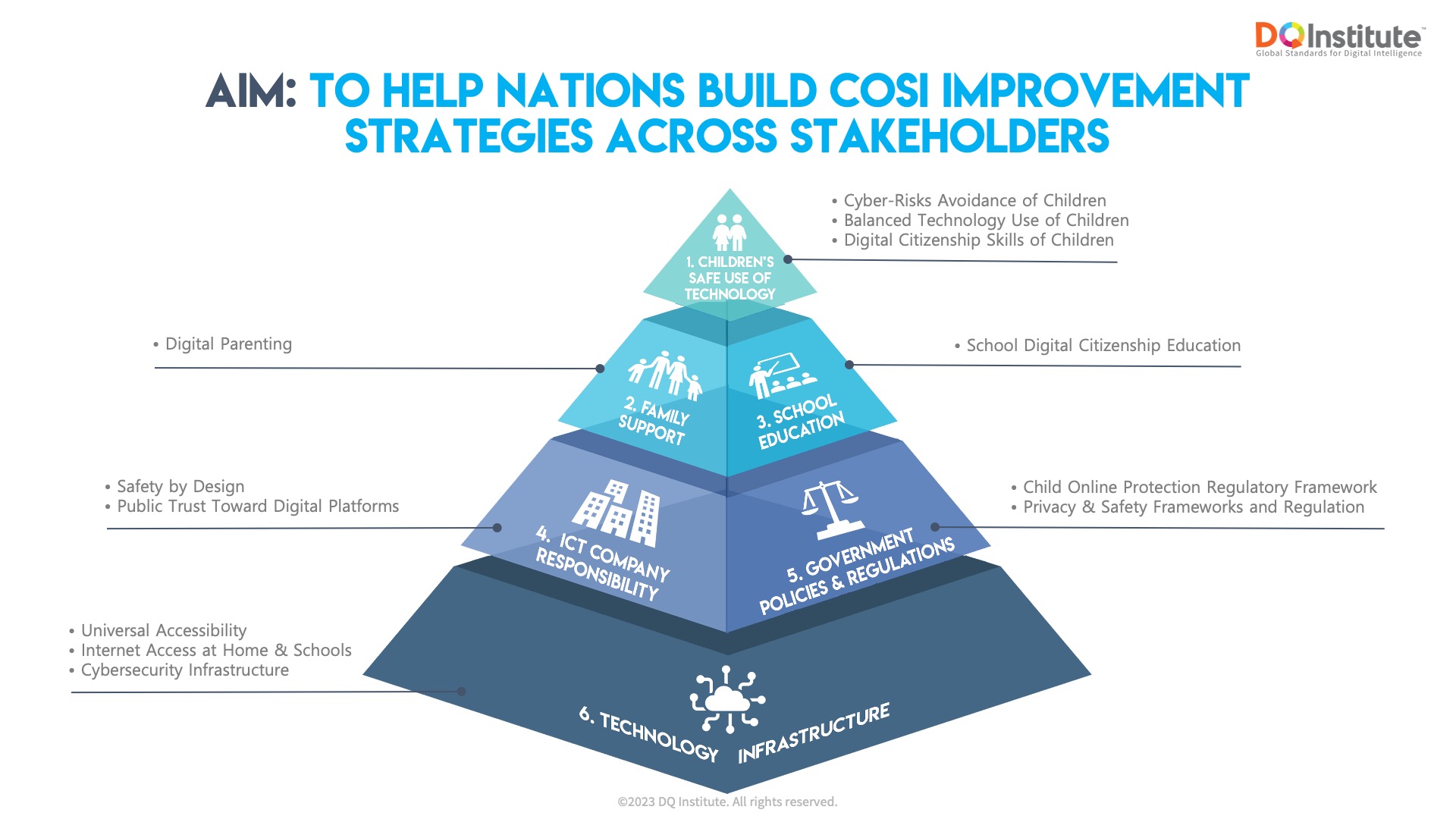 The 6 Stakeholders of COSI

Children's Safe Use of Technology
Assesses the level of children's digital citizenship and their exposure to cyber-risks

Assesses the level of family support, such as parental mediation and digital parenting, for child online safety

Assesses the level of school education on issues of online safety, such as cybersecurity, for child online safety

ICT Company Responsibility
Assesses the level of company commitment, such as through transparency reporting, to child online safety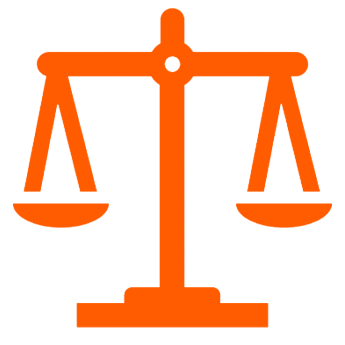 Assesses the level of regulatory enforcement for child online safety

Technology
Infrastructure
Assesses the level of technology infrastructure support, such as internet access and affordability, for child online safety
COSI National Monitoring System
Helps Nations Make Better
Strategic Resource Allocations
Based On the Global Benchmark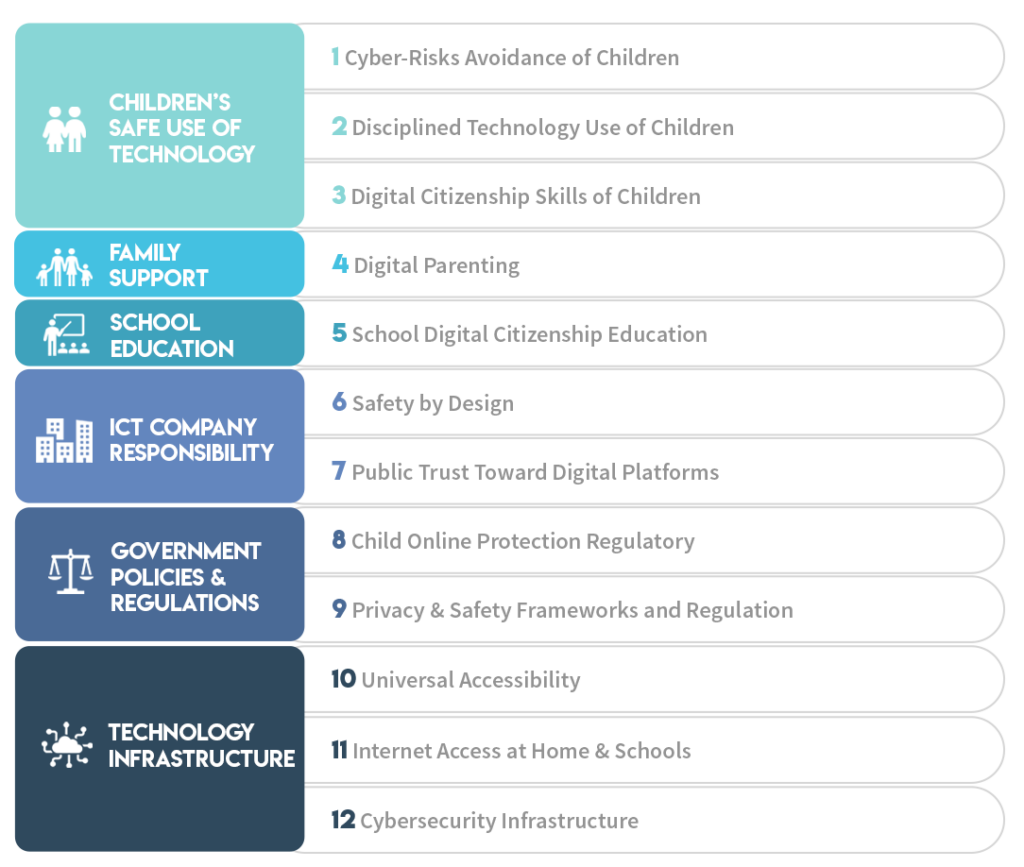 The COSI was developed through the "Outsmart Cyber-Pandemic" Report, which was published by the DQ Institute in collaboration with the World Economic Forum, Singtel, and other more than 100 partners. The report for the first time revealed the status of high and consistent prevalence of cyber-risks among young children across countries and cultures – 56% of 8–12-year-olds across 29 countries were exposed to cyber-risks, such as cyberbullying, video game addiction, offline meetings, and online sexual behaviours.
The 2018 "Outsmart Cyber-Pandemic" report awakened the need of comprehensive the global index that track and monitor the national status of child online safety across all the stakeholders involved in that respective country. The inaugural COSI was launched on 2020 Safer Internet Day (February 11, 2020). Subsequently, the 2022 COSI marked the second iteration of this publication, and the 2023 COSI represents the third installment in this series.
Now, the 2023 COSI report used the same methodology that was developed in 2022; however, instead of the global ranking of the nations, the 2023 COSI provides a 4-scale rating of A=Top Quartile, B=2nd Quartile, C=3rd Quartile and D=4th Quartile. This comprehensive tool enables nations to assess and pinpoint areas for improvement concerning the online safety of their children and youth across various key stakeholders, namely children, families, schools, ICT companies, and the soft and hard infrastructures of government bodies. The COSI aims to encourage effective collaboration among stakeholders to enhance child online safety and promote digital citizenship among children and youth within their respective nations, all while providing a means to measure national progress in this critical domain quantitatively.
This 2023 COSI report relies on data collected from a substantial sample of 351,376 children and adolescents, hailing from 100 different countries. These data sources include the DQ Institute's impact tracker as well as publicly accessible external sources, such as international research projects and publications. 
COSI is dedicated to monitoring trends in Child Online Safety around the world with real-time updates. We invite the academic research and expert communities to work together with us to further improve COSI. We especially welcome suggestions of how COSI can become more relevant to researchers' own countries. If interested, please contact us at partnership@dqinstitute.org.